Quick Links: Talk Recordings · Venue · Program · Speakers · Conduct
!!Con (pronounced "bang bang con") 2016 was two days of ten-minute talks (with lots of breaks, of course!) to celebrate the joyous, exciting, and surprising moments in programming. Check out our speaker lineup!
Where and when?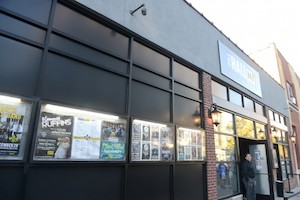 !!Con 2016 was held on Saturday, May 7 and Sunday, May 8, 2016 at the Hall at MP in Brooklyn, NYC. Check out our venue and accessibility information!
!!Con 2016 was pay-what-you-want. Registration is now closed.
Why should you go to !!Con?
This is what last year's speakers and attendees had to say:
"@bangbangcon was so consistently delightful and awesome the entire weekend through, for the second year in a row." – @gredaline
"@bangbangcon is by far the coolest conference I've been to" – @bcjbcjbcj
"I had a wonderful time at @bangbangcon! Such welcoming people doing fun and fascinating work." – @Bruce_Adams
"one of the finest events I've had the honor to be part of" – @shovemedia
"Had the BEST weekend @bangbangcon! I now want to build and write and make ALL THE THINGS!!" – @kiranb
"I have had an incredible weekend, again, full of wonderful, kind people and fascinating things learned. Thank you so much, @bangbangcon!" – @jczetta
"I want every day to be @bangbangcon, best conference ever" – @ablwr
We hope !!Con 2016 was at least as good!
How do I get updates?
For updates on !!Con, follow @bangbangcon on Twitter, or sign up for our mailing list below! No spam, we promise!
Who organized all this?
The !!Con 2016 organizing team: Alex Clemmer, Danielle Sucher, Erty Seidohl, Leo Franchi, Lindsey Kuper, and Nabil Hassein. Organizers emeritae: Julia Evans and Maggie Zhou. Logo design and additional web wrangling by Lea Albaugh.
Code of Conduct
We had a code of conduct that all !!Con participants were required to observe.
Sponsors
Thank you to our amazing sponsors for helping make !!Con possible!
EXCELLENT!! Sponsors
AWESOME! Sponsors
Individual Sponsors
Thank you so much to our individual sponsors who contributed to making !!Con possible!
Our sponsorship page shows the benefits that were available to sponsors!