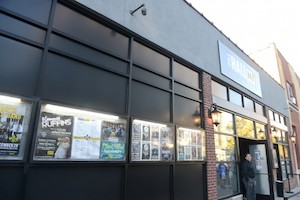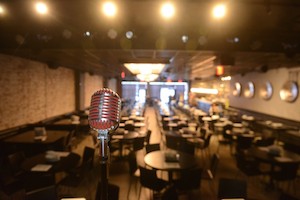 Venue and accessibility information
We're excited to announce !!Con 2016's venue: the Hall at MP in Brooklyn, NYC!
Getting there
The Hall is at 470 Driggs Avenue in Brooklyn, NYC. It is 0.2 miles from the Bedford Avenue subway station (L line), 0.4 miles from the Metropolitan Avenue station (G line), and 0.9 miles from the Marcy Avenue station (J/M/Z lines).
The Marcy Avenue station is ADA accessible and there are elevators at the corner of Marcy Avenue and Broadway. You can check elevator status before your trip.
Detailed subway and driving directions are available on the venue's website.
Bigger and better!
For space reasons, past !!Cons have been limited to just over 100 attendees. This year, we'll have capacity for 200+ attendees. YES!
We're painfully aware that in the past, a lot of people who have wanted to attend !!Con weren't able to snag a ticket due to our limited space. We're hoping to do a lot better in that regard this year!
Plus, we'll have a professional-quality sound and lighting system! (And professionals who know how to run it!) Sweet.
Alcohol-free and all-ages
We remain an alcohol-free event, as always. All ages are welcome. (Don't be misled by the fact that we're holding the event at a music venue and event space that often serves alcohol! That doesn't apply to !!Con.)
CART captioning
!!Con 2016 will have CART ("Communication Access Realtime Transcription" or "Computer-Assisted Real-Time", depending on who you ask) live transcription in English, provided by Certified CART Provider Mirabai Knight. Mirabai first captioned !!Con in 2014, and it was great. We're excited to have her back for an encore!
Do you require other accommodations or have concerns or questions about accessibility at !!Con? We're here to help! Contact the organizers.